Child like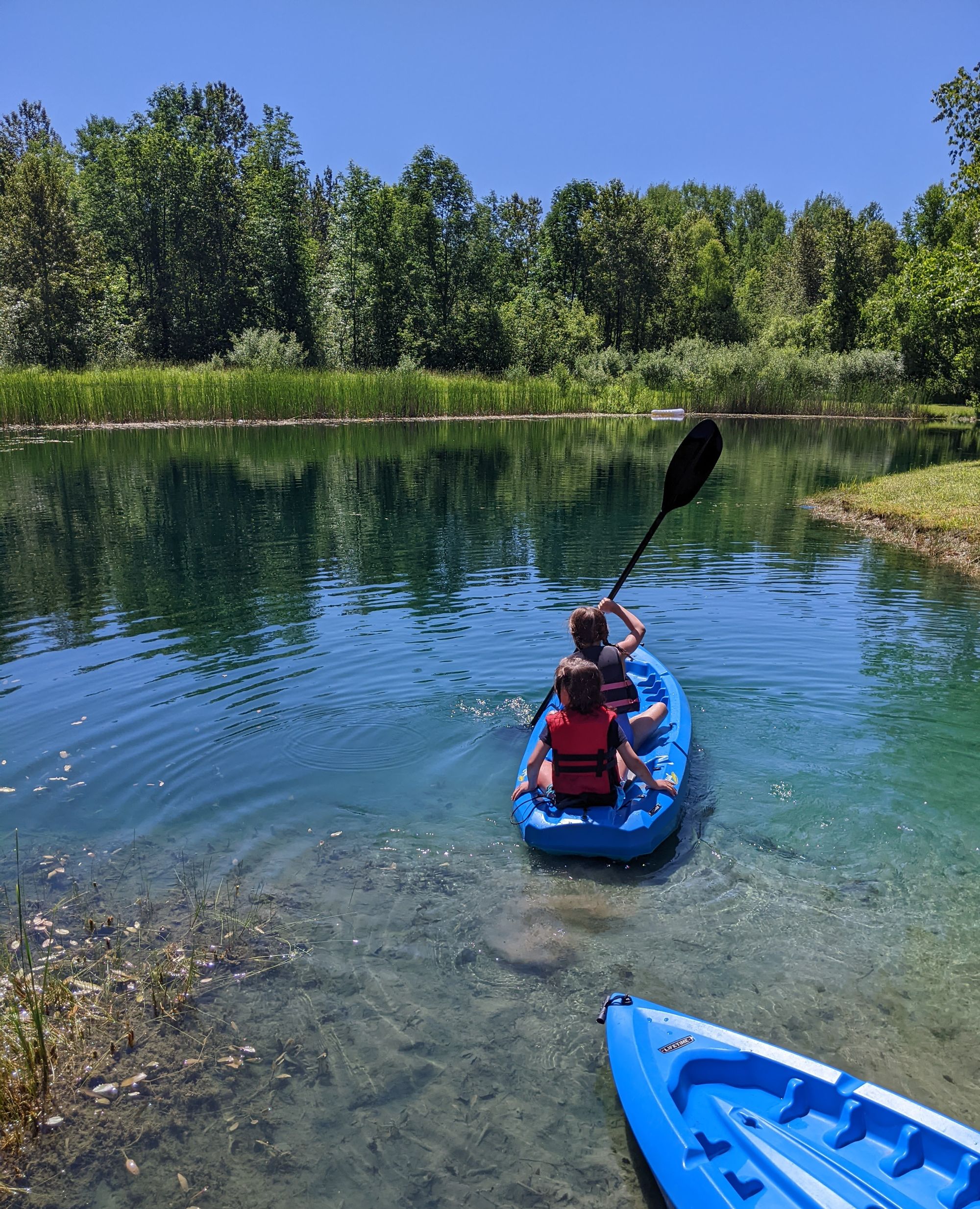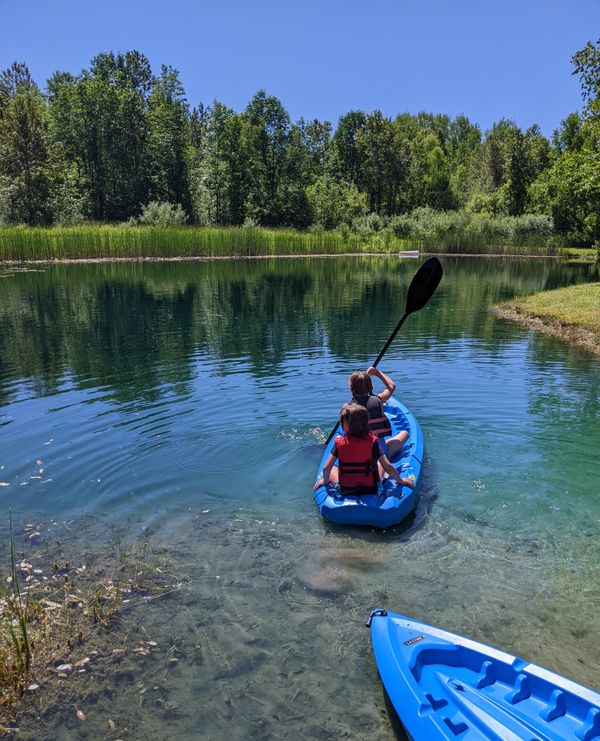 "Mission complete!" Adele roared to Elise. Her happy cry echoed softly off the water. She was halfway back already, having rescued the kayak paddle from the reeds on the other side. She had also abandoned the play shovel that she had used to paddle out there, necessitating another mission. But she didn't know that yet.
Bullfrogs "burrupped" in the reeds, whippoorwills trilled, and dragonflies droned and sparkled on the water. Maddie, seated in mild terror on the back of the kayak took up the call. "Mission kerplete!" she approximated cheerfully.
The girls were in their busy sun-soaked glory on our annual camping trip. We had returned to a private campground we had booked online for pennies, which has everything little people want — a swimming hole, fishing, swings, sunshine, and mud. Lots of mud. So we happily returned for another week this year.
I sat with Hannah by the shore and watched her carefully digging and filling up containers with mud and sand. She filled plastic buckets while I filled my soul with the applause of the trees. I soaked in the girls' joy and I soaked in the sun, happy to witness their "missions," as a fly on the wall, or rather, "mom on the shore."
Childhood witnessed is childhood relived with newfound appreciation. The treasure, truly, is theirs. But I know the value. They little realize that as their skin rebuilds from sunburn, their souls weave the fabric of who they will be for eternity. And I get to watch.
Elise rapturously told me that she loved walking by the water in the morning before everyone woke up. (I just love that she didn't wake me up. Ha!) She loves watching the fish in the still pond before play and busy joy stirs up all the muck from the bottom. She told me it is "so peaceful."
I smiled and whispered a longing prayer that she would soon learn that the fullness of solitude is Him. That it is in the quiet, either by a still pond or in a corner of a tiny apartment, that He is there. He's there in those moments where the lines blur between prayer and presence and His Spirit renews the weary soul with peace.
In childhood, we accidentally find those moments. Intuitively, unconsciously seeking them out as our sense of unhindered wonder naturally draws us to the Creator. Is that why the Lord placed a child in their midst and said that we cannot enter the Kingdom of Heaven unless we become like a little child? So naturally full of wonder, so willing to rest in His presence? So trusting that when He tells them to "abide" and "rest," they just…do?
I'm sure there are deep, lovely reasons for the Lord's gentle hand on that child's head. But maybe part of it is that while entering His Kingdom takes childlike faith, being in His Kingdom is simply a continuation of that posture of faith. We trust Him for salvation and healing from our sin-weary state. Then we come back daily (or hourly!) with open hands and bewildered heavy hearts for more of what we need from the Father — hope. Renewing. Wonder. Forgiveness. Help. Wisdom. Comfort. Counsel. Strength
As an adult, it is a chosen, reverent, cell-phone silenced, conscious returning to stillness. Just like my littles come to me for all their needs like "a weaned child with his mother" (Psalm 131:2). An ever-repeating cycle of going out and coming back to Him with child-like expectancy to be refreshed with His presence, His joy, His purpose in our lives.
As I sat by the shore, I did just that. I wrote out my worship in poetry and thanked Him for the previous year and poured out my needs.
May you and yours soak in the summer with joy, my dear sisters! Whether that is a vacation or sunbeams through your office window. And may it produce wonder and worship in your souls as it does in the hearts of our children and the trees as we hear them "clap their hands."
And may you too, seek out (and find) a little solitude filled with Him.
What about you? Where do you love to be while seeking solitude? I'd love to hear.
"For you shall go out in joy and be led forth in peace; the mountains and the hills before you shall break forth into singing, and all the trees of the field shall clap their hands" (Psalm 55:12).
---
Welcome Living Loved members. A poem or a post... I long for a moment of worship. A quiet reminder of the goodness of God that He has already filled me with to help me face the day. It is these moments I thrive on and these I try to capture. Consider subscribing for more/earlier content.
May the God of hope fill you with all joy and peace in believing, so that by the power of the Holy Spirit you may abound in hope. I myself am satisfied about you, my brothers and sisters, that you yourselves are full of goodness... (Romans 15:13-14).