"And if the house is worthy, let your peace come upon it, but if it is not worthy, let your peace return to you. And if anyone will not receive you or listen to your words, shake off the dust from your feet when you leave that house or town." Matt 10:13-14
We stepped out of our vehicle and looked around the hot, dusty gravel parking lot. Old canopies covered pickup beds and smiling faces. Wares laid out in the sun, each vendor sat casually and watched people shuffle by. There was no rhyme or reason to each vendor's arrangement, some sprawled across the parking lot, some hugging large shipping containers that stood against the raised train tracks. Large, deafening freight trains occasionally barreled past. We stood out, as we were not the usual clientele. Hard work and years wore the hands and eyes of the men that perused the machinery and tools. Women with children quietly surrounding them bartered for shoes, clothes, and cell phone covers. My brother and I chose one end and we started to work our way around the rambling semi-circle. We offered a tract and mask to each person and explained that we are English teachers looking for students to join our free class. Some vendors read the tract and told us they were believers and asked how they could help. Others offered to share it on the social groups of the area. As we continued, we met people from Mexico, the Middle East, Korean and Venezuela. So many faces, so many precious souls from the uttermost parts of the earth. My heart thrilled and ached. We could never learn all their languages. Would they be able to understand the message in English?
The Lord's world would not have been far removed from this dusty scene. His feet were likely gritty with stray gravel as mine are after visiting this market. I couldn't help but think of His stoop to the dust where we were. Putting on a body of dust as we have. Walking the dusty roads as we do. What a privilege to offer the hope He offered. Whether they sit in a dusty parking lot or a 26th floor condo. Each precious. Each in dire need of rescue from the penalty of sin.
"Hello! You want sunglasses? Ray Bands, Tommy, what you like?"
"How much?"
"25 for you!" He smiled as he put on his mask ready to do business. I laughed. I knew this game.
"No way! Too much for these!" I held up some pretty gold trimmed "Ray Bands" that creaked as I opened them. Now was his turn to laugh.
"What you think? how much?"
"10 dollars."
"No! 20." Just then Nathaniel walked up.
"Hi, I'm her brother," he said in his naturally friendly way.
But the man had misunderstood. "Ah! Hello! You are a brother! $15 dollars for your lady's glasses! Just for you! Are you from Saudi Arabia?" Nathaniel's gold brown eyes and curly dark hair behind a dark mask must have made him appear middle eastern. I jumped in happy to get a lower price, "brother" or not.
"Fifteen is great! Thanks!" and handed him my cash before Nathaniel could protest. We learned his name the next week and have become fellow booth operators.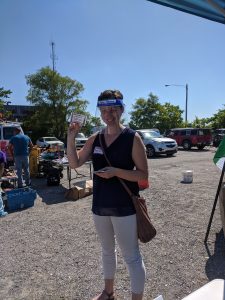 As the urgent need for masks subsided in the city and more and more people turned down a free mask at the large and famous Eastern Market neighborhood, we started to look for other people and places that would welcome them. We had long since switched to Zoom classes for ESL and wondered if we could find some local students again as our students were increasingly from abroad. We simply drove around the neighborhoods that had the most immigrants. Mexican town. Hamtramck. Spanish, Lebanese, or Arabic script often accompanied the English on the store marquees, and people of every description walked the streets. In our sensitive American culture, finding students is a touchy business — you normally can't simply ask someone if they want English classes — they could take unintended offense if they have been here a long time (often longer than I have). But we can and do offer our cards and ask if they know anyone (else) that would like free English lessons. We explain that we teach 1 hour of English and 30 minutes of a Bible lesson. We don't want to bait and switch on them, promising English and giving them the Bible. But most will stay for the Bible lesson, whether they are interested or not. And often, their interest grows as they learn more and more English. We have had students come in for English lessons and eventually ask for 1 on 1 "tutoring" to learn more about the Bible. We are thrilled to oblige. We're hoping this can happen on Zoom too!
Our welcome at the market was warm and friendly, and has continued to be so. The owners are even letting us advertise on the street. A few of us and a growing number of brothers and sisters have returned week after week. We have our own little canopy to stand up in front of our SUV now. We hand out free water and talk to people about English and the Bible. We debate or invite, depending on the situation. Last week, another couple from the assembly joined us and it was helpful to have a fluent Spanish-speaker. Apparently it's ok to say "How is your English?" in Spanish, because we got 13 contacts interested in joining the class just last week. We will have to wait and see if any of them will join.
We pulled into the market praying for a welcome, praying that we wouldn't be shaking dust off our feet and looking elsewhere. But it looks like we'll have "dusty feet" for awhile. If you can sew and feel exercised, we'd love help sewing masks. And most of all pray for us, sisters. Pray that the fruit of this will be souls won for Christ.