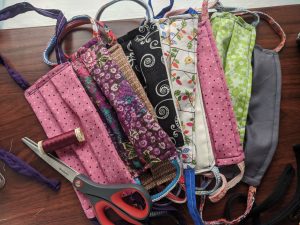 "For as the rain and the snow come down from heaven
and do not return there but water the earth,
making it bring forth and sprout,
giving seed to the sower and bread to the eater,
so shall my word be that goes out from my mouth;
it shall not return to me empty,
but it shall accomplish that which I purpose,
and shall succeed in the thing for which I sent it.
~ Isaiah 55:10–11
Rain and snow wash and tumble in rivets and mounds on the earth. They never return again in the same form. They spread, seep, and join the rivers in an endless journey to the sea. Some of it is used and evaporated, ready to go again. Some of it softens the ground and waters our crops. We drink it in. All of it is used. Just like the water and the snow, God promises to use His Word. Not for what we purpose, but for what He purposes. Maybe it is to save a soul as we faithfully pray. Maybe it is to encourage a fellow Christian. Maybe it is to silence and halt the spiritual darkness that seeks to keep us from spreading it. Maybe, it is just to honor Him in quiet obedience. But none of it, not one life-giving drop, is wasted or lost.
"Do you have any more?" He asked me eagerly. "Absolutely. How many do you need?" He wanted 4, so I slipped them through the crack in the window He provided. "Thank you very much!"
The Eastern Market, a famous open-air market in Detroit is offering drive up, no-contact wholesale market vendors. Three weeks ago, my sister (who is living with us right now) and I went to get much needed bulk meat and veggies for the freezer. We waited for 3 hours in a crawling line. At the very last vendor we visited, the woman complimented me on my mask. I told her that a friend made it for me and she off-handedly said I should have her make some for them. I couldn't stop thinking about her comment and wishing I had just handed her the extra mask I had. Hers was a single use paper mask that was filthy and falling off. I had hesitated… and drove on. What had stopped me? I realized that I didn't want to let go of the tiny piece of security my extra mask seemed to give me by just sitting in my car. But doesn't the Lord offer me more security than my homemade mask? The Holy Spirit chided my soul gently. He does.
With this thought churning in my heart, I mentioned the exchange to my mask-making friend and she enthusiastically agreed to make a few more for me to bring to the woman. (She made 40!) She also included invitations to our live streamed gospel series. And so began our little project that so far has brought masks, invitations and tracts into the hands of 148 people at the market. Two other ladies are helping us sew now. One of the sisters in the assembly had a sewing machine she wasn't using, so now I am sewing too. The number we've distributed is relatively small. The project is hardly sweeping. But it is something. And it thrills me to think that someone could be saved.
Some I handed to homeless people who were so grateful to not have to use rags anymore. Some I passed through tiny window cracks or tossed into empty carseats in their back seats. Some I gave in handfuls to grateful farmers that need them for their farm hands. Many people, surprised by my presence in our pandemic-swept city, read the words on the tract and invitations. They sit in the long line and read a message of hope. I pray they watch the past gospel meetings on Youtube. Never have I had so many people surprised and eager to receive a piece of gospel literature. Suspicion and worry melted into gratitude and surprise when I told them it's a free mask. I know they just want the mask… but maybe they will come to see that God will give them more security than a slip of fabric ever could.
Please pray God will use the "water" we are spreading for His purpose. The following is a tract I wrote and I hope to print and include in our little zippy-bagged packets of good news. We can't make them fast enough.
—
This is how God loved the world: He gave His only Son that whoever believes in Him will not perish but have eternal life. John 3:16
This is the most quoted verse in the Bible with good reason. In it, we find the recipe of hope for every person that has never lived. It has nothing to do with religion or lifestyle or wealth and everything to do with what God has done for us. In today's world, nothing is dependable. Especially in the past few months with the rise of the COVID-19 Pandemic. That's why God's Word is more important than ever. If you have a moment, please look at this verse with me.
This is how God loved the world…
God does love the world, but have you ever wanted Him to love the world in a different way? Maybe you'd like God to take away all the pain or bring in world peace? How about heal your family member? Or you? Or bring justice against the people that have hurt you? Or to eradicate COVID-19? I would be onboard with that one! But the Bible doesn't say that God loves the world in these ways. God doesn't do the things we want Him to do. God does what He wants to do, according to who He is.
When we read about God, we discover that He is just. God will judge all sin, and all of us, great or small, will stand before Him. One day, we will enter His courtroom. He will make things right, but all of us are in the wrong. The Bible shows us that all have sinned – we are guilty before Him. But right now He is showing grace to each one of us because we need it!
God's love is shown in a strange way. He's not solving our society's problems (even a pandemic) right now because that isn't our number one problem in God's sight. God loved the world – and wants to heal us from sin. But how?
…He gave His only Son…
God the Father and His Son are equal and love each other endlessly. Jesus means everything to God the Father. Everything. And what did God do? He poured out His judgment against sin on Jesus at the cross. God gave up His Son. Why? Because He loves us. The love of God is "giving," not "taking." Let that sink in. God gave everything precious to Him, emptying heaven so that you and I would never have to answer for our sin. God the Father gave Jesus up, so that sinners could receive His love! This is amazing!
You might be asking, if God already gave His Son, Jesus, then aren't we all already going to heaven? Who is this love for?
…that whoever believes in Him…
This is for "whoever believes." It's for anyone – no matter where you come from or what you've done – but you must believe in Him.
Just like our hands are not clean of germs and viruses without using soap, our souls will never be saved from the just anger of God against sin if we do not trust Jesus Christ.
But why Jesus? Jesus is unique because He is the only one who did not sin. Look at His life – He never did anything wrong. Just like you and I can't wash our dirty hands with dirt, we can't "wash" our soul with our own goodness or anyone else's. The only cure is the one who lived a perfect life – Jesus Christ. We must believe Him.
…will not perish…
Why would we perish? It's because we all have sinned, and if we're honest, we all know it. We are not perfect. It's just like we're putting on the fake "Zoom suit" (a false velcro shirt that looks like a suit and tie only from the front). We may fool others but we can't fool God. God sees the whole picture of our souls — every white lie, every jealous or lustful thought, every bitter refusal to forgive those that have hurt us and so much more. These are the things that bring death. These things that we are so accustomed to in our world are SO offensive to a perfect God. He simply cannot ignore them and let us into heaven — it would be like showing up to a wedding in that Zoom suit and sweatpants! We need God to clothe us.
…but have eternal life.
This is good news! We can have confidence that our sins are forgiven with the promise of this beautiful verse. Jesus Himself said these words thousands of years ago. He guarantees that this promise is true. He went and suffered for the world that God so loved. Then He rose again from the dead to prove that the work was finished and accepted by God. Today, He is waiting with open arms for anyone (yes anyone!) who will humbly trust Him and only Him for forgiveness of their sins. You don't need to perish, you can have eternal life. Won't you trust Him today and have this peace forever?
If you are interested in using this tract, please let me know via PM.